Artist
About Gunilla Löfgren
Abstractions Guided by Informal Abstract Principles
Gunilla Löfgren, skatubacken.se, is an innovative, mixed media abstract artist from Sweden. She imbues her tactile compositions with esoteric, contemplative and symbolic qualities. Her diversified use of materials and multi-layered treatments provide a myriad of dynamic and engaging surface features.
The artist is influenced by the informal abstract principles, inspired by Indian philosophy. For her, the art provides a possibility to explore deeply, let go of performance and relax into the creative process. Following this method she frees herself from the technical and practical aspects to discover new and continuous possibilities aimed at deeply exploring her creativity.
Löfgren describes her creative process as mainly focused in "seeing, feeling, and exploring the tension, power and passion that live between firmness and dissolution, between structured and creative chaos, stillness and movement, lightness and heaviness."
She explores different materials and incorporates such diverse items as Salix, textiles, sculpture, thread, metal leaf, and earth. Her imaginative use of mixing materials positions her among leading contemporary artists.
Löfgren's art is represented in both public and private collections. She has exhibited her art regularly in Sweden since 1995. Her many exhibitions and art workshops have taken place in Italy, Kurdistan/Iraq, Bulgaria, Denmark and India. The artist received special commissions from Ljusdals kommun, The Art to be Unique, in three consecutive years.
She is also a two time recipient of a grant from Foundation for Culture, Gunvor Göranssons Kulturstiftelse, Sandviken, Sweden and from KC Nord for her project "Labyrinter".
Manhattan Arts International gave Löfgren "Best in Mixed Media" and an Award of Excellence in its juried exhibitions. She was selected for Manhattan Arts International "HERStory" 2016, an exhibition of outstanding women artists from around the world. The jurors of "HerStory" 2016 were so impressed by her integration of her materials that included wasp nests, metal leaf, mirrors, acrylic, and plaster on linen, they selected her painting to win an Award of Excellence.
Löfgren has also been awarded a Premio De Marchi and she won a Second Place Award from Trevisan International Art, Italy. In addition, Light Space & Time online art gallery selected her artwork for several juried online exhibitions.
The artist is a member of The Swedish Artists National Organisation (KRO), Swedish artists association/Artist House (SKF/konstnärshuset.org) formed in 1890 and International Association of Art (IAA).
Renee Phillips
Manhattan Arts International.
Join Gunilla Löfgren in Social Media
Facebook: https://www.facebook.com/gunilla.lofgren2
LinkedIn: https://www.linkedin.com/in/gunilla-lofgren-8614ba15
Twitter: https://twitter.com/GunillaLofgren
My creativity centres mostly around seeing/feeling/exploring.
the tension, the power and the passion in and between firmness and dissolution, structure and creative chaos, between immobility and movement, lightness and weight. To feel the challenge in the visualization, the watching and a wish to see behind, beyond the artistic expression. I think it is about challenging your visualization, re-evaluing, overthrowing, setting the room into rotation and seeing if something new appears and allowing the artistic expression to work outside its known context.
During various periods over the years, I have worked in many different materials. From words and politics, free form embroidery and gardening followed by words and politics and vegetable dyeing with natural colours to ribbon and rosengang weaving, carding, matting, working in leather, sweaters with pictures and symbols, words, dirt, children, making dolls for Waldorf schools, tending sheep and creating art, and now Salix, textiles, sculpture, scrap metal, pelargonium flowers, wood, wrought iron, gardening, words and dirt with a wish to be part of the energy-filled movement/ rhythm. The storied pictures you see in the gallery can be likened to collected movements that hide experiences and thoughts, maybe secrets. The other pictures are fragments of the same stories but in the form of jettisoned movements.
From structure/order/ cosmos out into creative chaos. Parts of the structure is jettisoned. Thinking in rhythm, creating movements, a shape that is rejected. Room in uproar. Dare to see, dare to break patterns. What does the viewer see? Who is the viewer? Who sees whom?
Maybe it becomes a dialogue between you and you? A movement without end.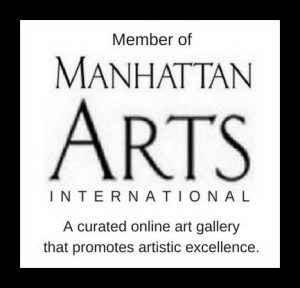 https://manhattanarts.com/gunilla-lofgren/


http://www.trevisan-international-art.com/onlinelofgren.html